As it became known, a hybrid installation is now available for the Hyundai Santa Fe, the characteristics of which are much higher than those of standard internal combustion engines.
So, Hyundai Santa Fe 2023 is now available with a hybrid engine. True, while this applies to Australia, but in the near future the crossover should appear in this version in other countries. As for the appearance, it has changed, except for the presence of new nameplates indicating a hybrid version. The salon also retained its former appearance, as well as equipment, although there are some innovations.
As for the Hyundai Santa Fe hybrid installation itself, it is based on the T-GDi Smartstream engine. Its volume is 1.6 liters. Together with it, a 60 horsepower electric motor and a 1.4 kWh capacity lithium-ion polymer battery pack are installed. The transmission is presented in the format of a six-speed automatic transmission. The final performance of all elements of the installation is characterized by a value of 227 horsepower with a thrust equal to 350 N * m.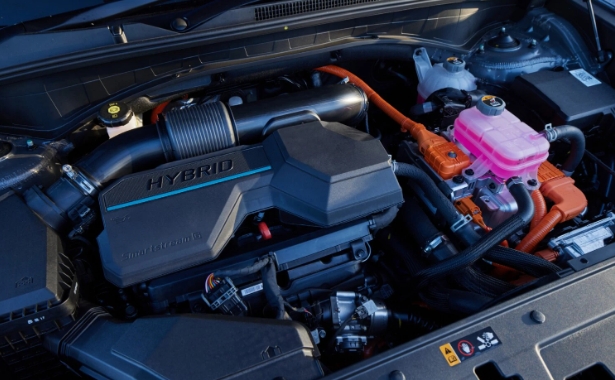 If you compare the hybrid version with others, you can find several differences at once. So, a variation with a 3.5-liter Smartstream V6 unit is inferior in terms of torque, as is a 2.2-liter turbocharged diesel engine. It is also worth noting more economical fuel consumption. In particular, fuel consumption in the combined cycle corresponds to an indicator of 6.0 liters for every hundred kilometers. In the city, a little more is consumed – 6.2 liters. In addition, upgrades were made to the suspension settings, the Hyundai HTRAC all-wheel drive system with an electronic clutch with variable traction torques.
The hybrid installation option is available in two versions – Elite and Highlander. In the first case, the cost corresponds to 42,479 dollars (2.565 million rubles), and in the second – 47,165 dollars (2.848 million rubles). As for the equipment of these trim levels, here the crossover receives the functions of Remote Smart Parking Assist, Smart Power Tailgate, Shift-by-Wire, a 12.3-inch instrument cluster, multimedia with a 10.25-inch monitor, a premium audio system, wireless a platform for charging smartphones, several assistants, and so on.